Civil & Environmental
Since its inception, this Unit has been one of the core units of Galfar. The Unit's commitment to quality & safety, professionalism and integrity has helped it to grow from strength to strength. Having created benchmarks in the industry while delivering path breaking projects, the division has an excellent track record with regards to customer satisfaction.  
Iconic structures such as the Civic Piazza at CBD, Bank Muscat Head-Quarters, Al Mawalih Interchange, Oman Medical College, SBG Corporate Office & Car Showroom Complex, Sayyida Mezoon Bint Ahmed Mosque are some standing examples of finesse of our abilities.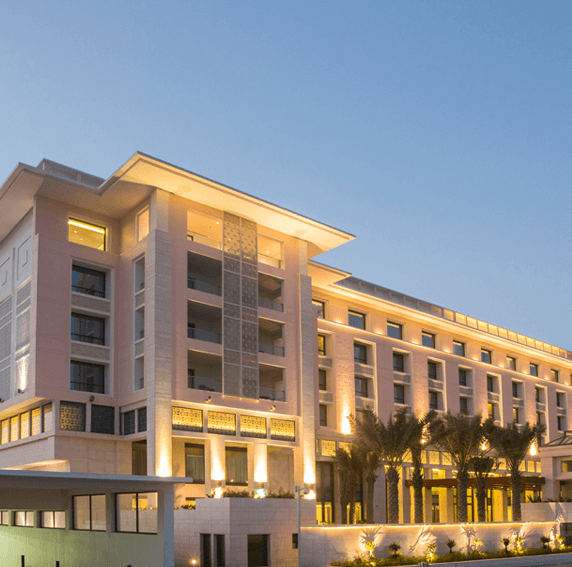 Being Galfar's first operating unit , over the years, the Civil & Environment Unit has built several landmark projects including palaces, commercial establishments, housing complexes, educational institutions, hospitals, monuments, religious structures, stadia, showrooms, telephone exchanges and residences. Being a Unit focused on safety and quality with ability to develop world class infrastructure, the Unit has taken up large civil works for industrial facilities such as iron ore palletization plant, reservoirs, fertilizer plant, amongst others. It has also constructed several turnkey hotels across Oman.
Some of the medical facility projects undertaken by the unit in the earlier stages were the Ibri, Nizwa and Sur general hospitals. While the Ibri and Sur hospital projects were limited in scope, the Nizwa Hospital gave the unit an opportunity to complete Mechanical, Electrical, Plumbing & HVAC paving the way to several large projects viz. Salalah Extended Health Centre, National Heart Centre at Royal hospital, Accident, Emergency & Burns unit, Salalah Cardiac Centre followed by operation and maintenance services for these facilities.
Over the years, the unit has executed several coveted projects for the Royal Court Affairs and other Statutory Authorities including guest complexes, office complexes, border posts, correctional facilities and other utility buildings. 
The Unit also has its core strengths in the Environment sector having completed Oman's first of its kind Membrane Bioreactor based Al Ansab STP, the region's largest vacuum sewer network at Seeb, several STPs across Oman, sewage collection & conveyance networks, Reverse Osmosis plants and Operation & Maintenance services for such installations.
OUR PROJECTS
THE WILL TO LEAD; A PASSION TO EXCEL