Infrastructure
The Infrastructure Unit has capabilities to deliver projects in the Roads and Bridges, the Railways, for Airports and Seaports, for Dams, for Power Grids as Transmission and Distribution, for Water treatment plants, for Wastewater Treatment Plants, for Network Projects as EPC or C including operation and maintenance of power grids, all types of treatments plants, networks for both Water and wastewater.
It is believed that if you drive through any of the world-class roads and bridges in Oman, it is likely that Galfar Engineering and Contracting's Infrastructure Unit has built it. 
Since the founding of this Unit, Galfar has been delivering top-class solutions for the construction of roads and bridges, relying on company's many years of experience, knowhow, and innovative superiority. The Unit takes immense satisfaction in having created a remarkable portfolio of roads and bridges which have contributed significantly to the planned development across many governorates of Oman. Over the last 30 years, year on year Galfar's esteemed team has constructed almost one third of Oman's roads. 
Continuing to maintain its legacy of innovation by executing landmark road projects that have defined the nation's progress, Galfar's Infrastructure unit has built some of the most challenging roads in Oman. Cutting-edge roads such as the Muscat Expressway, Jebel Akhdar road to Saiq, Bausher-Amerat and Hasik Shuwaimiyah are shining examples of the Unit's competences. Be it the highest mechanically stabilised walls or longest underpass tunnels in Oman, the Roads and Bridges Unit has built them all while providing high-quality results in an efficient manner.
Benefitting from Galfar's large fleet of heavy earth moving equipment, the Infrastructure Unit has proved its proficiencies in over ground excavation, backfill and reclamations. Some of the significant projects it has undertaken includes backfilling work for the Muscat International Airport and ground leveling activity for Refinery Complex in Duqm. 
Continuing to add new milestones with every passing year, Galfar's Infrastructure Unit has built several airports in Oman. Some of the standing examples are Salalah International Airport where the team's scope of work as a joint venture partner was to execute all airside works.  The unit has also built several Petroleum Development of Oman (PDO) airports to provide all-weather round the clock air operations to the oil fields. The division has also constructed the airside facilities at the Ras Al Hadd Airport for the Ministry of Transport.
The marine wing has constructed a comprehensive range of projects including ports, commercial harbours and fishing harbours.
Construction of several dams and recharge structures across the length and breadth of the Oman is an accomplishment few can boast of.
With the merging of strengths of other Units, the Infrastructure Unit has strengthened itself to deliver capabilities as mentioned above.
The Unit can implemented high voltage and medium voltage power transmission overhead lines and grid station projects.  The Unit has also carried out projects concerning large water transmission and distribution networks, sewerage collection networks across the length and breadth of Oman.
The Public Health Division that comes under this Unit, has undertaken several design engineering, procurement and construction of sewage treatment plants, RO water treatment plants, brackish water treatment plants across Oman. Having strengthened this line of business, the unit has gone on to construct some of the largest and most sophisticated seawater RO plants and sewerage treatment plants using latest technologies such as MBR and SBR to name a few. It is no wonder that the team is considered a forerunner in such technologies in Oman.
The Unit also provides operations and maintenance services to its clients in Oman by managing large water transmission lines, water distribution networks, sewage collection networks, sewage treatment plants and other utility works. 
The Unit maintains almost seventy-five percent of the existing transmission and distribution network for the water authorities in Oman. The Unit has helped Galfar establish itself as a recognized partner in the Sultanate's efforts towards nationalization. The branch is also specialized in the maintenance of large hospitals, university complexes and other establishments across Oman. 
With a steadfast commitment to a culture of quality & safety and company values the 5000 plus Unit's employees serve the nation relentlessly. The Unit also attracts nationals and employs over 1000 specialized workforce in various capacities. It is graced with capabilities to design and build unique structures. A leader in providing value-added services to its customers by creating successful partnerships, the Infrastructure unit continues to achieve one milestone after another.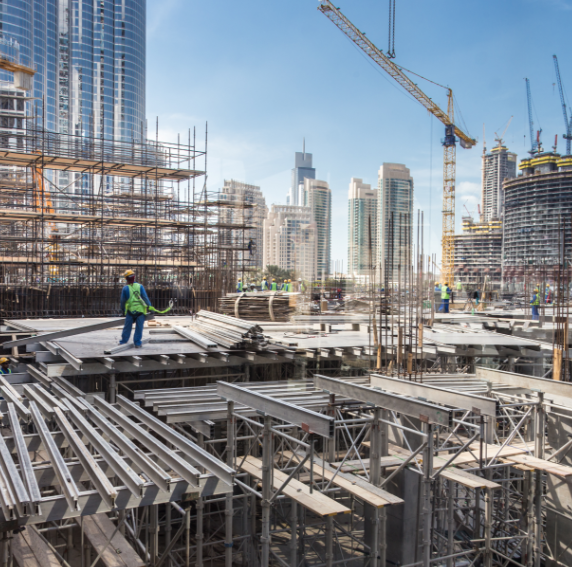 OUR PROJECTS
THE WILL TO LEAD; A PASSION TO EXCEL